Disciplined selection for well muscled sheep with locked in performance and excellent constitution.
Key points
SIL NZ Maternal Worth indexes generated from 1100 hill country bred recorded ewes. All of the Pahiwi selection data is generated under hill country conditions at high stocking rates with minimal inputs. Strict NIL adult ewe drenching.
Fertility- Pahiwi recorded ewes are consistently scanning over 185% and docking over 160% (ewes to ram), for our clients fertility has been a key selection trait. -2019 scanning saw the recorded MA ewes scan 201% and 2 tooth flock 187%. All ewe hoggets are mated with preg scan data included on SIL selection lists.
Survival- All recorded lambs are tagged at birth, we have placed emphasis on scoring ewes for mothering ability and closely monitored lamb survival which has been recorded since Pat Tennent established the flock in 1956. Scanning multiples ensures accurate data on live lambs at birth, this data is then uploaded into SIL to generate breeding values and index figures. Survival is a complex trait involving many factors such as mothering ability, lamb vigour, milking ability to name a few. We tag in paddocks ranging from easy to steep terrain, this selection pressure ensures very accurate data for genetic progress to pass on to client flocks.
Growth rate- weaning weight is a key driver in farm profitability. Kg's of lamb live weight weaned per kg of ewe liveweight mated is key to assessing ewe efficiency. We select for fast growth for early maturity and hogget mating potential. We record all weaning weights and Autumn weights across ewe and ram lambs. Our genetic trend graphs are showing solid progress is being made here.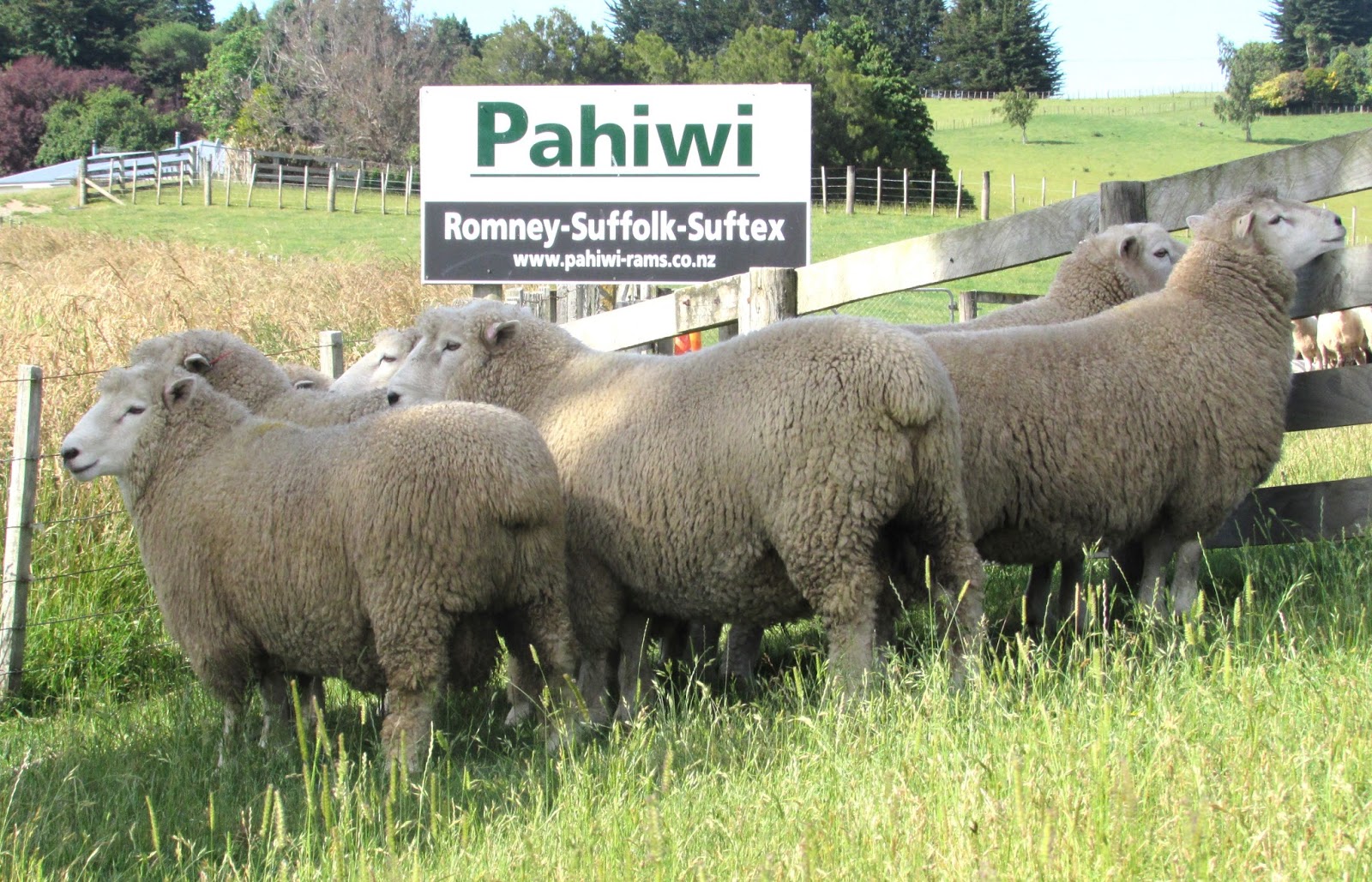 Meat yield- through a large scale progeny trial focusing on growth and meat yield we have been able to bench mark our progress in this area. Results from the trial over the last 8 years have shown Pahiwi progeny to be consistent performers. The info from 5 k, ultrasound scanning, and the NGE lists also adds more data to our selection.
Wool- we keep a handle on wool quality and select for a medium bulky type. Ram hogget fleeces are weighed at the beginning of August to generate fleece weight breeding values.(FW12)
Parasite tolerance- we have taken a direct approach here by not drenching adult ewes since 2009, with the last drench given to 2 tooths as hogget lambs are weaned before Christmas. As breeders we need to challenge our stock to ensure we are identifying those top performers and culling anything that doesn't measure up. We are Worm FEC testing our Romney ram lambs in the Autumn to select for parasite resistance through Techion Group. Worm resistant sheep with high production is our objective, breeding sheep that will reduce pasture contamination, drench use, with lower labour inputs. All sale rams have a breeding value for Worm FEC.
Dag scoring- using SIL dag score best practice techniques we have begun putting some data around breeding sheep with less dags. Scores are collected at weaning on all lambs and again in Autumn on all lambs.
Facial excema- we have been steadily breeding FE tolerance into our flock, with the clear goal of retaining the other traits we have worked to hard on. This began with the purchase of an FE tested sire in 2008 from NZ's leading FE flock (based on SILACE). Since then we have steadily increased the number of FE tested sires used in the flock. We have invested in sires with high FE tolerance and are testing a number of ram hoggets at .35. Ram Guard testing enables us to guage our progress while maintaining progress in other traits, we also use genomics to give another layer of accuracy to our selection. High FE tolerance in Romneys is the result of many years of selection, we are happy with the gains we are making while retaining the traits Pahiwi Romneys are renowned for.
Foot structure- feet problems are an industry wide issue, we are proud to have bred a line of sheep with very good structure. This is backed up by client feedback, selection pressure and a 'no excuses' approach to culling.
Adult weight- to ensure we are selecting for growth efficiency, we weigh our 2 tooth and mixed age breeding ewes pre tup. This info is blended into our overall index, or can be split out for individual sire analysis (EWT BV). The key for us is to use this data to select for bloodlines that produce a high proportion of ewe live-weight in kilograms of weaned lamb. In addition to pre tup weighing ewes, we body condition score mixed age and 2 tooth ewes. This is expressed as a breeding value. We also body condition score (BCS) each ewe as we record adult weights. This info generates data on ewes with high production that stay in good nick.